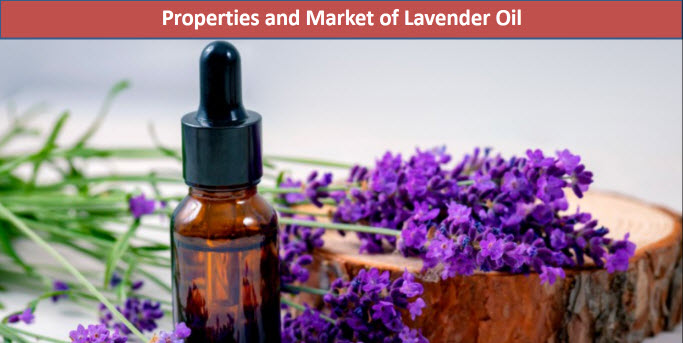 Properties and Market of Lavender Oil
Lavender Oil is a natural compound that has a wide variety of uses. For example, it has antibacterial, anti-inflammatory, antiseptic, carminative, and anxiolytic properties. It is also a highly effective deodorant and fragrance. In addition, it has antioxidant and antifungal properties.
Antibacterial Property of Lavender Oil
Lavender oil is antibacterial and helps heal wounds, reduce redness and swelling, and relieve pain and inflammation. It can also be applied on cuts, burns, and infections.
Aside from its healing benefits, lavender oil is also believed to provide relief from depression, anxiety, and stress. The plant has been used to repel insects in medieval castles and as a deodorant.
Antibacterial activities of lavender essential oil are attributed to its ability to disrupt the bacterial membrane. However, specific mechanisms for this process remain inconclusive.
Several studies have demonstrated the inhibitory effects of lavender essential oil against a variety of bacteria. These include Escherichia coli, Shigella sonnei, VRE, and Proteus vulgaris.
What is Anxiolytic Property of Lavender Oil?
Lavender essential oil has been used as a medicinal plant for anxiety and depression treatment for centuries. It has a wide range of biological effects. However, it is not yet well understood what its mechanism of action is.
In order to determine its anxiolytic efficacy, a systematic review is needed. The results of this review should allow researchers to determine the efficacy of lavender. Several compounds from lavender essential oil have shown anxiolytic effects in rodents and animals.
The mechanism of action of lavender essential oil is not fully understood. But some of the factors that may be involved include serotonin neurotransmission, inhibition of voltage-dependent calcium channels, and the hypothalamic-pituary-adrenal axis. Some studies have also shown that lavender has anticonvulsant properties.
Medicinal Uses of Lavender Oil
Lavandula has a wide range of medicinal uses. It is used as an antibacterial, hepatic stimulant, and as a local medicament for a variety of maladies.
In addition to these, lavender is believed to have carminative properties. This is due to its effects on the digestive tract.
Lavender is also said to have anti-spasmodic and anti-inflammatory properties. It has been shown to reduce blood pressure, and prevent the formation of gas. Additionally, it has been claimed to be effective in treating insect bites and fungus. However, more studies are needed to better understand the mechanism of action of this oil.
Anti-Inflammatory Characteristic of Lavender Oil
Lavender oil is a natural anti-inflammatory that can help fight a variety of skin ailments. It can also reduce redness and irritation. In addition, it can reduce the appearance of wrinkles and fine lines.
It is best mixed with other oils for maximum effectiveness. It is a versatile essential oil that has been used for centuries.
Lavender has a high concentration of antioxidants, which can reduce the redness and inflammation of the skin. These antioxidants can also protect the skin against free radicals. Aside from being a powerful anti-inflammatory, lavender is a great moisturizer for all types of skin.
Distillation - A Technique to Extract Lavender Oil
Lavender oil is a good way to treat some of the most common ailments. It has proven medicinal properties for fungal infections, flatulence, and diarrhea. However, it should not be used in place of prescribed medicines.
There are various techniques to extract lavender oil. Steam distillation is a commonly used method. The process works by heating the plant material and then allowing it to cool. This results in a product that is diluted in water to produce lavender essential oil.
Although steam distillation is the most efficient way to produce lavender essential oil, it does have some limitations. For example, it is not as effective on plants that do not have stems. In addition, it takes several hours to complete the distillation process.
Market Share - By Application of Lavender Oil
Lavender oil is an essential oil obtained from flower spikes of certain species of lavender. It is used in cosmetics, disinfectants and fragrance. The essential oils market is expected to grow at an annual rate of 11.8% between 2017 and 2027.
The market is expected to be dominated by the citrus segment. Ethereal oils from citrus are highly concentrated products. Their demand is increasing due to their superior functional and organoleptic characteristics. However, high prices discourage their usage in the developing economies.
In terms of application, the largest segment is personal care. Skin diseases and grooming product demand will drive this sector.
Expansion of Lavender Oil Market
Lavender oil is a colourless oil, extracted from the distillation of lavender spikes. It is used for aromatherapy and personal care products. The calming and refreshing aroma of lavender oil is the reason for its popularity.
Lavender oil market is expected to grow rapidly in Asia Pacific and Latin America. A growing consumer awareness about the benefits of lavender oil is likely to drive its demand in these regions. However, strict governmental regulations and high cost of raw materials are key restraints.
The global market is anticipated to expand at a steady rate over the next seven years. Rising awareness about the benefits of lavender oil and increasing health expenditure have contributed to the growth of the market.