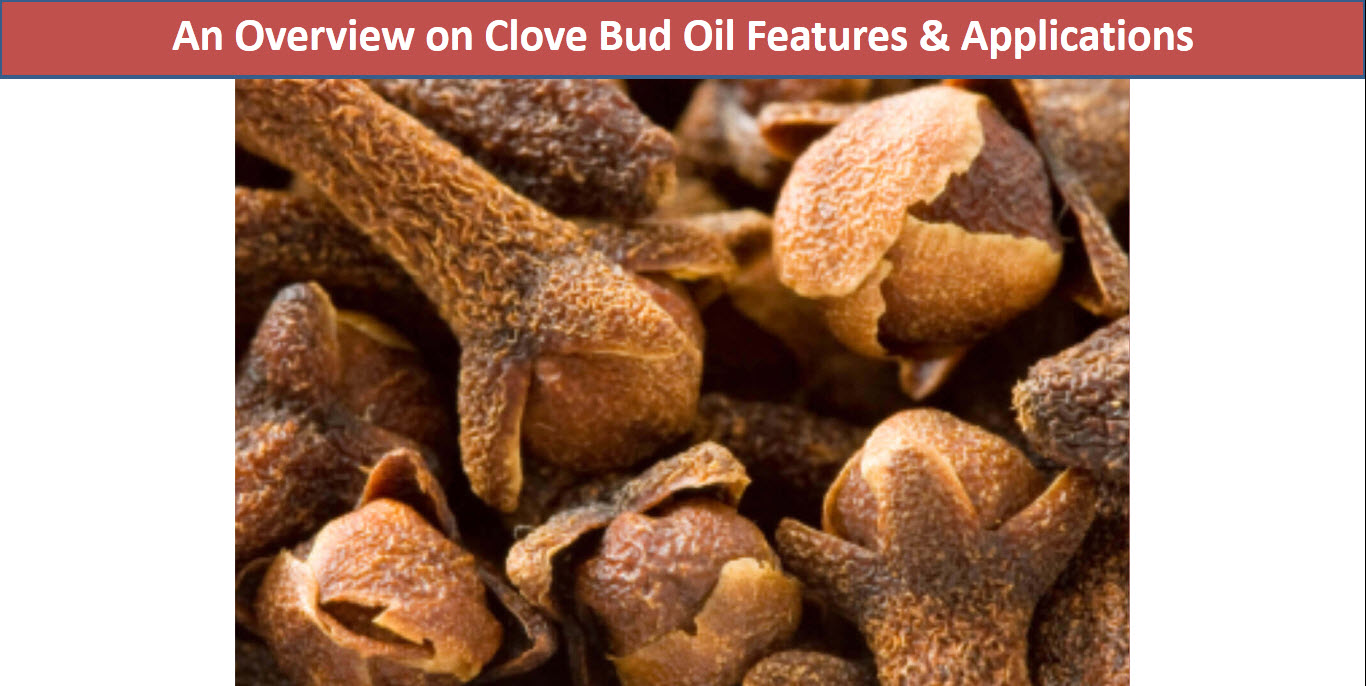 An Overview on Clove Bud Oil Features & Applications
The benefits of Clove Bud Oil are countless. This article covers its properties, safety, and blends. You'll be better equipped to make informed decisions about this essential oil. Read on for more information. And make sure to subscribe to our newsletter to learn more about the latest news and special offers. We will be posting more information about Clove Bud Oil and its many uses. In the meantime, enjoy reading! We hope you find this article helpful!
Essence of Clove Bud Oil
The essential oil of clove bud has many benefits, including antiseptic, antiviral, and antifungal properties. It is also highly effective against toothaches, although it should not be taken internally. Clove essential oil is well known for its musculoskeletal system pain blends, and can also be added to massage oils. Its antispasmodic and stimulating properties make it a perfect choice for massage therapy.
Clove bud oil contains the active compound eugenol, which accounts for around 70-95% of the oil's composition. It is known to be stimulating and energizing, as well as promoting focus and concentration. This oil also promotes healthy blood circulation and controls sugar levels. Aside from treating pain, clove essential oil is also effective for relieving the symptoms of arthritis and sprains.
Clove Bud Oil Properties
The properties of Clove Bud Oil have long been recognized as a valuable ingredient in many natural products. Its antimicrobial, antioxidant, and insecticidal properties have been documented in many animal models. This herb's phytochemicals include sesquiterpenes, monoterpenes, and phenolic compounds. In addition to these, Clove Bud Oil also exhibits antiseptic, aphrodisiac, and antiviral properties.
Its antiseptic and antiviral properties make it an excellent topical application for aches and pains. It is an effective pain reliever for rheumatic and muscle pain. Its aroma has anti-inflammatory and analgesic properties. Clove Oil can also be used as a massage oil. However, it should be diluted before applying it to the skin.
Safety with Clove Bud Oil
When used in essential oil blends, Clove Bud Oil can have several health benefits. However, some people have concerns about its safety. Polyphenols found in clove buds, including eugenol (41.2% gallic acid equivalent), are found in significant amounts in clove buds. Significant studies have shown that clove polyphenols are safe to use as dietary supplements, but systematic evaluations are needed to know whether or not they are safe for the body.
Blends with Clove Bud Oil
Clove bud essential oil is an excellent aromatherapy oil for a variety of conditions. This powerful oil can be used to treat various illnesses and conditions, such as toothache, ulcers, wounds, rheumatism, and colic. It is also effective for use as an insect repellent, can improve focus, and is useful for coughs and colds. A few drops of clove oil can be placed in a diffuser and diffuse it in the room you wish to scent.
Clove oil is effective in massage oils. It is an excellent ingredient to use in blends that address aches and pains. It can be combined with fennel, spearmint, tangerine, and peppermint for digestive discomfort. You can also use it in homemade mouthwash recipes. A couple of drops will help to relieve a toothache. Clove oil is also a good ingredient in homemade mouthwash.
Clove Bud Oil Common Uses
There are many common uses for clove bud oil. This herb is a powerful antioxidant and can be used to treat a variety of health issues. For example, it can reduce the risk of heart attack and bleeding and is a good option for people suffering from peptic ulcers. However, some people should be wary of its usage, especially if they are pregnant or nursing. Pregnant and nursing women should also consult with their health care provider before using this essential oil.
The essential oil of clove bud is extracted from the buds of the clove tree, a tropical, slow-growing tree native to the Spice Islands. Its strong aroma blends well with other warming essential oils and is commonly used to increase strength, endurance, concentration, and circulation. It is also used as a natural cleaning agent. Despite its relatively small production, clove bud oil has many uses, including killing mould and bacteria, enhancing the appearance of skin, and boosting the body's immune system.
The Bottom Line
In addition to the smell and taste, it can have antifungal and antibacterial properties. Both clove oil and eugenol inhibit the growth of yeast and mold. Studies show that the compounds have considerable antifungal activity against a variety of foodborne pathogens. Further, studies have shown that clove oil inhibits the growth of Clostridium gypseum and Candida species.
The oil from cloves has antimicrobial, antifungal, and antiviral properties. Additionally, it is known to have stimulating and aphrodisiac properties. Eugenol is the primary compound in clove bud oil, accounting for 70-95 percent of its content. It has a strong spicy taste and is widely used in periodontal and root canal therapy.