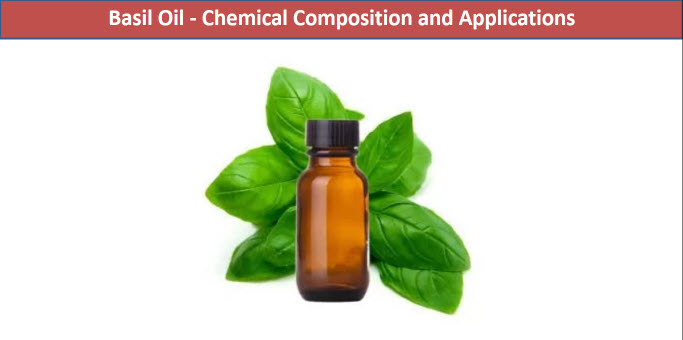 Basil Oil - Chemical Composition and Applications
Basil essential oil is generally known as Basil Herb. It carries a lot of potential for the health and wellness industry. From its chemical composition and antimicrobial action to its application in skin care and cosmetics, there is a wealth of information and knowledge to be found on this essential oil. Luckily, the internet has a lot of great resources to get you started.
The Chemical Composition of Basil Oil
A wide variety of chemical constituents are found in basil essential oils. Some of these components are biologically active compounds that are involved in controlling bacteria, and are also able to control viruses. Basil EOs have been studied for their antioxidant properties. These properties can be attributed to the presence of eugenol, an antioxidant compound that has been reported to be found in the oils.
Antioxidant activity was evaluated using a DPPH assay. The results were correlated with total phenolic content of the extracts. In addition, the essential oils showed a strong correlation with the free radical scavenging capacity.
Basil essential oils are generally obtained by steam distillation. However, the chemical composition of basil essential oils is different in different regions. This may be due to different environmental conditions, as well as genetic factors.
The Anti-microbial Action of Basil Oil
Basil essential oil has been found to exhibit antimicrobial activity against a wide range of microorganisms. This study has analyzed the antimicrobial effect of basil oil on different strains of resistant bacteria. The main aim of the study was to assess the antimicrobial activity of basil essential oils on four bacteria and two fungal strains. Among these, the ESBL+ strains of Escherichia coli were investigated. It was determined that most of the ESBL+ clinical strains of this organism were sensitive to basil essential oil at a concentration of 9.0 uL/mL.
In addition to the inhibition activity of basil oil, it was also determined that the type of Ocimum cultivar affected the antimicrobial action of basil oil. The presence of sesquiterpene hydrocarbons in the plant was found to have a positive relationship with its antimicrobial activity.
Basil Oil can be used as a Muscular relaxer
Basil essential oil is a natural muscle relaxer and can be used as a digestive aid. This essential oil is also used for its anti-inflammatory, antispasmodic, and antibacterial properties. It can be applied topically to a painful area, taken internally, or diffused throughout your home.
Aside from its uses as a muscle relaxer, basil oil can also help with sluggishness, fatigue, and depression. You can also use basil to treat headaches and sinus pain. If you are suffering from an ear infection, basil can relieve the discomfort. In addition to its soothing qualities, it can also speed up your recovery.
Basil essential oil is one of the most effective muscle relaxers and should be included in your arsenal of health care remedies. However, it is important to note that basil oil has a potential to cause allergic reactions. Also, it can be dangerous if used in high doses.
Soil and Climatic Condition for Basil Plantation
There are many things that affect basil plants. Plant diseases, insects and the environment all play a role. Other than these, the climate and soil type also have a direct bearing on the quality of your basil crop. For example, arid and semi-arid regions have low water holding capacity. In addition, poor aeration hinders root growth. Luckily, there are methods for combating these problems.
First, the most important thing to know is that basil needs a well-drained, sunny location. It requires about six to eight hours of bright light per day. A good soil must contain no toxic elements and must not be overly nutrient-rich.
Basil Oil in Cream formulations
Research on Basil Oil cream formulations has been carried out using novel emulsifier combinations. The resulting cream formulations have shown similar extrudability and cohesiveness. They were also evaluated for their ability to inhibit growth of bacteria and fungi. Moreover, they were found to be non-irritant.
Various parameters, including viscosity, particle size and turbidity, were measured. It was concluded that the cream formulations with a higher concentration of glycerol monostearate (GMS) were viscous.
A cream formulation containing GMS: SLS was also developed. This combination was found to have a stronger antimicrobial effect than the GMS: Tween 80 blend. However, its antimicrobial efficacy was not comparable to the basil oil.
Various Applications and Clinical trials
Basil oil has been used to treat various diseases for centuries. It is now used in cooking, aromatherapy and topical applications.
Basil has many chemical components and is a good source of vitamins and minerals. Various studies have been conducted to examine its antimicrobial properties. Essential oils of basil cultivars are known to have high inhibition activity against fungi and S. aureus bacteria. The use of essential oils in nosocomial infections could be promoted as they are natural antimicrobial agents. Basil oil was found to have a higher effect on gram-positive bacteria than gram-negative bacteria.