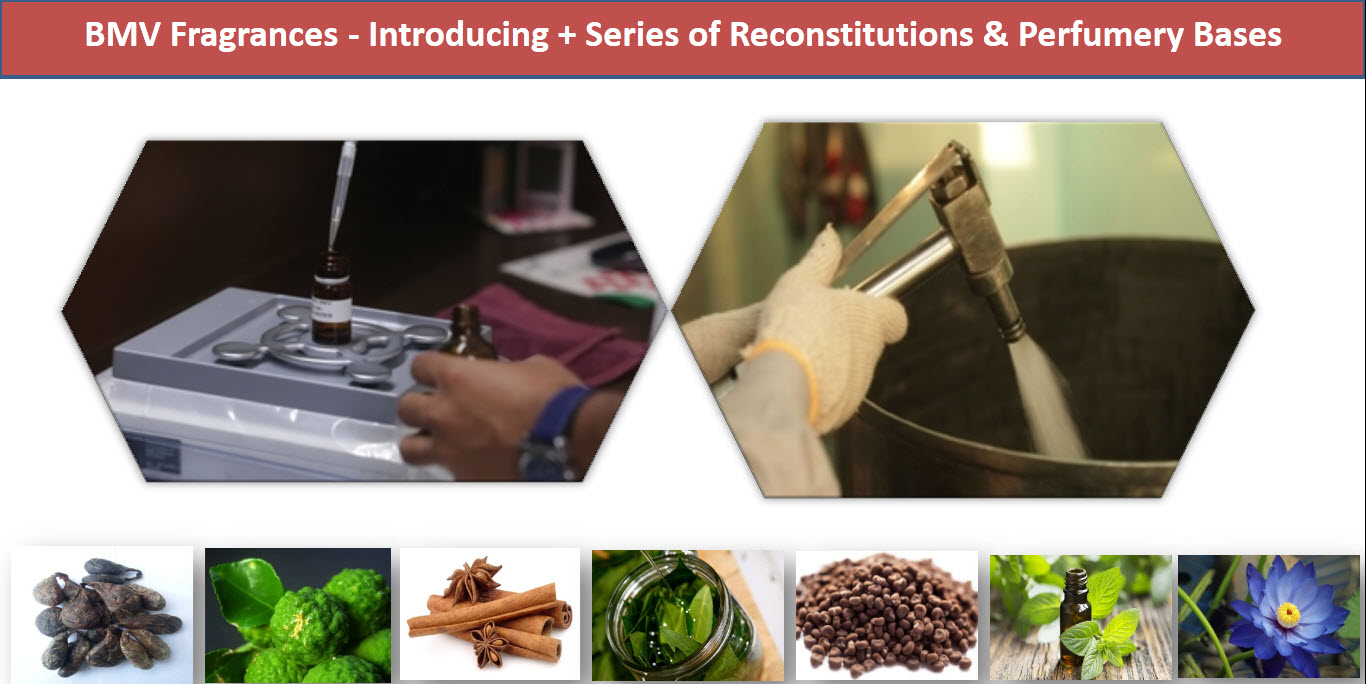 BMV Fragrances - Introducing + Series of Reconstitutions & Perfumery Bases
Reconstituted Oils are formulations extracted from natural resources through unique and developed research techniques. They are chemically modified and derived out of Oils, Resinoids, and Absolutes. They are formulated through the mixing of natural and chemical ingredients. These reconstituted oils are extensively in demand for use in perfumery, flavoured tobacco, scents, and many more uses. The reconstituted oils can even be obtained from organic materials, plant leaves, and barks after thorough processing and can provide luring fragrances.
On the other hand, absolutes are concentrated and highly aromatic and formulations that are used in aromatherapy, medicinal and cosmetic purposes. The '+' Series is a technical breakthrough by BMV fragrances and a unique approach to deliver the best concentration.
The Reconstitution Category
The wide assortment of reconstituted oils is developed with years of research and expertise to deliver the best-in-class products. The + Series include -
Ambergris Nicobar NNA+TM
The Ambergris Nicobar NNA+TM is a reconstitution derived from a waxy solid substance, originally known as Ambergris, found in the intestine of the sperm whale (Physeter Catadon). Traditionally this was used in medicinal potions and as a spice in eastern cultures of the world while the western part of the world used it to stabilize the scent of the finest perfumes. Its unique feature is that it has a musky effect & is a fixative that prevents fragrances from evaporating resulting in a long-lasting smell.
Armoise NNO+TM
Armoise NNO+TM is a reconstitution derived from the Artemisia plants that blend well with floral bases exceedingly well and is used in numerous perfumes to give a sweet and heavy kind of effect. They are related to cinnamon, clove, and vanilla flavourings. The NNO+ series has a very delicate and soft odour.
Buchu NNO+TM
The Buchu leaf extracts are occasionally used in chypre (family of perfumers) and a certain type of colognes acclaimed for their diffuseness and freshness. Since this is rare in nature and found sparsely in the dried leaves of Barosma Betulina, BMV Fragrances has created the Buchu NNO+ series that has penetrating and minty camphoraceous nature.
Chamomile NNO+TM & Jasmine Auriculatum NNA+TM
Belonging to the daisy family, the Chamomile reconstituted oil has been widely used in medicinal properties in the form of a cure for stomach ailments or as a mild sedative. It has also proven effective for nausea and heartburn. This reconstitution is a very intricate process and the + series is also used in many perfumeries. Similarly, the Jasmine Auriculatum NNA+ is also a reconstituted oil that has an exotic aroma that is useful in blending with perfumeries widely.
Geranium China NNO+TM
The Geranium herb has a very pleasant and long-lasting aroma with limitless applications and is known to be one of the best floralisers. The + Series is a reconstitution that is a mixture of Geranium essential oils, aromatic ingredients, and absolutes. Due to this reason, it is used as a deodorant and masking body odour. It is also useful in the treatment of acne, ringworm, eczema as well as stress.
Labdanum NNO+TM
The labdanum is a resin that was anciently collected from combing the goats and sheep that grazed on cistus shrubs. The Labdanum NNO+TM natural reconstitution is very useful in elevating the fragrance of incense sticks and can last even after it is extinguished.
Musk NNA+TM
This genre of aromatic compound is obtained from the gland of the male musk deer and used as base notes in perfumery. Musk has been a well-known fixative since ancient times and is a valued product and even considered as a life-saving drug used in cardiac, mental, and neurological disorders. The newly introduced Musk NNA+ reconstitution has an excellent effect and is best to be used in perfumery fragrances.
Oudh Assam NA+TM & Oudh Cambodian NNA+TM
The first-grade agarwood is much valued in many cultures around the world and is used in incense and perfumes. This Oudh Assam NA+ reconstituted oil has a deep and balanced fragrance easy to blend with rose or sandalwood or a touch of saffron to form the most beautiful fragrance.
The Oudh Cambodian NNA+ is again a distinctive fragrance and the + series is an excellent evolvement to cater to the worldwide demand of consumers as a reconstitution.
Rose Absolute NNA+TM
The Rose Absolute reconstitution is an aromatic fragrance that can diffuse well into the environment and is a favourite of all. Rose Absolute NNA+ is a valued proposition to be used in sweet supari, cosmetic compounds, cosmetic products, culinary creations, and high-class colognes.
Sandal NNA+TM & Sandalwood Ersatz NNA+TM
The sandalwood absolute is a woody-based scent known for its soft, warm, smooth, and creamy scent. When used in smaller proportions the Sandal NNA+TM can enhance the longevity of other volatile materials in the compound.
The Sandalwood Ersatz NNA+TM is an in-house speciality at BMV fragrances known for its balsamic and sweet mixture.
Tonka NNA+TM & Wintergreen NNO+TM
The Tonka tincture is well known for its flavourings in tobacco. Tonka NNA+ reconstitution is a non-floral sweetener that introduces warm notes and oriental bases. It has immense blending capacities with lavender, menthyl esters, bergamot, and oakmoss.
The Wintergreen NNO+TM is another reconstitution oil that is replaced by Methyl Salicylate and the + series with its state-of-the-art technology is exalting in its delivery.
The Perfumery Bases
The base notes in a perfumery base add depth and solidity to a perfume. BMV Fragrances cater to the ever-increasing demand for perfumery bases. Some of them are mentioned below:
Attar Gulab NNA+TM
The Attar Gulab NNA+TM is yet another of the most magnificent perfumery base. This scent is universally accepted and loved that is familiar as well as distinctive. Its percolative nature that can soothe senses and extend a pleasing environment makes it truly exotic.
Attar Heena NNA+TM
Henna has been famous since ancient times as an ayurvedic remedy and is useful in skin concerns. The Attar Henna NNA+TM is utilized most efficiently as a perfumery base to develop the mystical fragrance based on traditional bases and modernized by the latest manufacturing methods.
Attar Keora NNA+TM
The Attar Keora is one of the most popular fragrances that has been developed at BMV Fragrances as Attar Keora NNA+TM that is used to scent clothes and applied behind the ears as well as added to cosmetics for a mesmerizing effect. The Keora rich aroma is made out of kewra flowers and used widely in India. It is also used to perfume food items like biryani and sweets.
Attar Mitti NNA+TM
The scent of Attar Mitti NNA+TM is similar to the one that is experienced when the first drop of rain falls on earth. It is a unique category and created for effect close to nature. The soothing and mellow fragrance which is completely natural allows the subtleties of the aroma to percolate through.
Oakmoss Absolute IFRA 4 NNA+TM
The Oakmoss Absolute IFRA 4 NNA+ is animalic musk with a woody base note designed gracefully and smells earthy with hints of musk and amber. It works fantastically as a skin fixative which helps it to stay longer on the skin. It has taken its place as an odourant and demanded as much as other perfumery bases.
Distinctive Reconstitutions & Perfumery Bases by BMV Fragrances
The + Series of Reconstitutions, Essential Oils, and Absolutes are delicately formulated with advanced technology and known for countless remedies and aromatherapy uses. The synergy in them helps them to blend easily with other components. They are extremely effective, acclaimed and demanded by industries & consumers all over the globe.