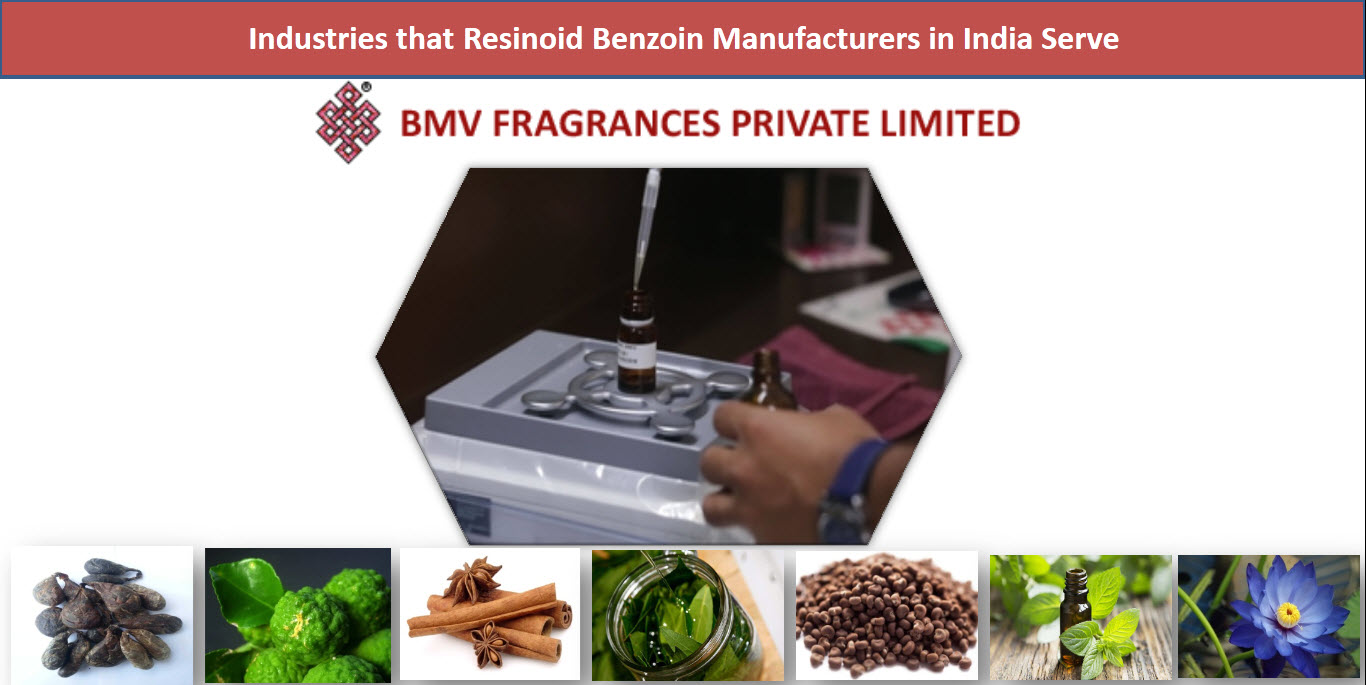 Industries that Resinoid Benzoin Manufacturers in India Serve
Obtained from the bark of several tree species of the styrax genus, Benzoin resinoid is obtained from balsamic resin. It is a commonly used ingredient in the incense making and perfumery industries. It can also be used clinically as a mild antiseptic agent in over-the-counter products to clean cuts, wounds, and abrasions. Benzoin is a common ingredient in the incense-making and perfumery industry because it has a sweet vanilla-like aroma and fixative properties. It is called a fixative because it slows the dispersion of essential oils and fragrances into the air.
The oil is extracted from the balsamic resin employing a solvent, and because the resulting resinoid is still too thick to work with at this stage, a diluent is added to the resinoid to make it more fluid and easier to use. After this due process, this oil is technically termed a resinoid rather than essential oil. The resulting oil has a balsamic, creamy aroma reminiscent of vanilla due to the presence of a component called vanillin, which is also present in vanilla. It resembles a reddish-brown-like gum in appearance.
Today, resinoid benzoin manufacturers in India find its many uses commercially for fragrancing perfumes, toiletries, and cosmetics. One can find it on the label of many skin protectors too. It can extend the shelf life of the products it is used in. The food and beverage industry uses pure and natural benzoin as a flavouring agent. Some industries where resinoid benzoin manufacturers supply the natural and 100% product include as mentioned below.
Agarbatti, Incense & Bakhoor
While being used in these products, benzoin resin ensures an enduring effect to scented sticks. Its properties help the scent to linger on longer and make consumers yearn for more. This product is extracted through unique procedures by experienced resinoid benzoin manufacturers to provide a very natural and effective ingredient.
Fine Fragrances & Mukhallats
Benzoin is a key ingredient for a perfumery base. It is an iconic raw material in the world of fine fragrances and perfumes. It helps in the slow disposition or aroma molecules and can smell fantastic.
Aromatherapy
Due to its medical benefits, the benzoin reconstitution can be used as a valuable addition to blends for all types of circulatory and joint problems. It has soothing effects on poor circulation, arthritis, and rheumatism where it provides warmness. These can be used in the form of essential oils and can blend with other essential oils like lavender, rosemary, juniper berry, black pepper, and ginger. The expectorant properties of benzoin can be useful in respiratory conditions and used as an inhaler or vaporiser.
Cosmetics & Toiletries
These natural preservative and antiseptic are excellent at creating a thin protective film on skin and hair, preventing it from losing moisture and giving hair a healthy sheen. The smelling effect is also enhanced by the rich sweetness and deep balsamic notes from the resinoids.
Soaps
Its effectiveness is an added advantage during the manufacturing of soaps as it imparts anti-fungal and anti-bacterial properties. Manufacturers use pure and natural Benzoin Siam & Benzoin Sumatra crystals. Again the fixative effect is much appreciated here and its pronounced odour depressing effects enhance the soap effectiveness.
Chewing Tobacco, Pan Masala & Mouth Freshener
The use of resinoid benzoin help in eradicating bad breath and giving a fresh sensation. Pure and 100% natural benzoin is supplied by renowned resinoid benzoin manufacturers having complete knowledge & expertise. This ingredient is packed in a clean and hygienic environment, using premium packaging material to maintain its quality and purity.
Manufacturers of resinoid benzoin have evolved to improvise and maintain the highest quality of this raw material which lives beyond the expectations of consumers. The benzoin resinoid is also used to make the benzoin absolute by way of an extraction process using volatile solvents followed by a purification in alcohol and have a shelf life as long as one year.