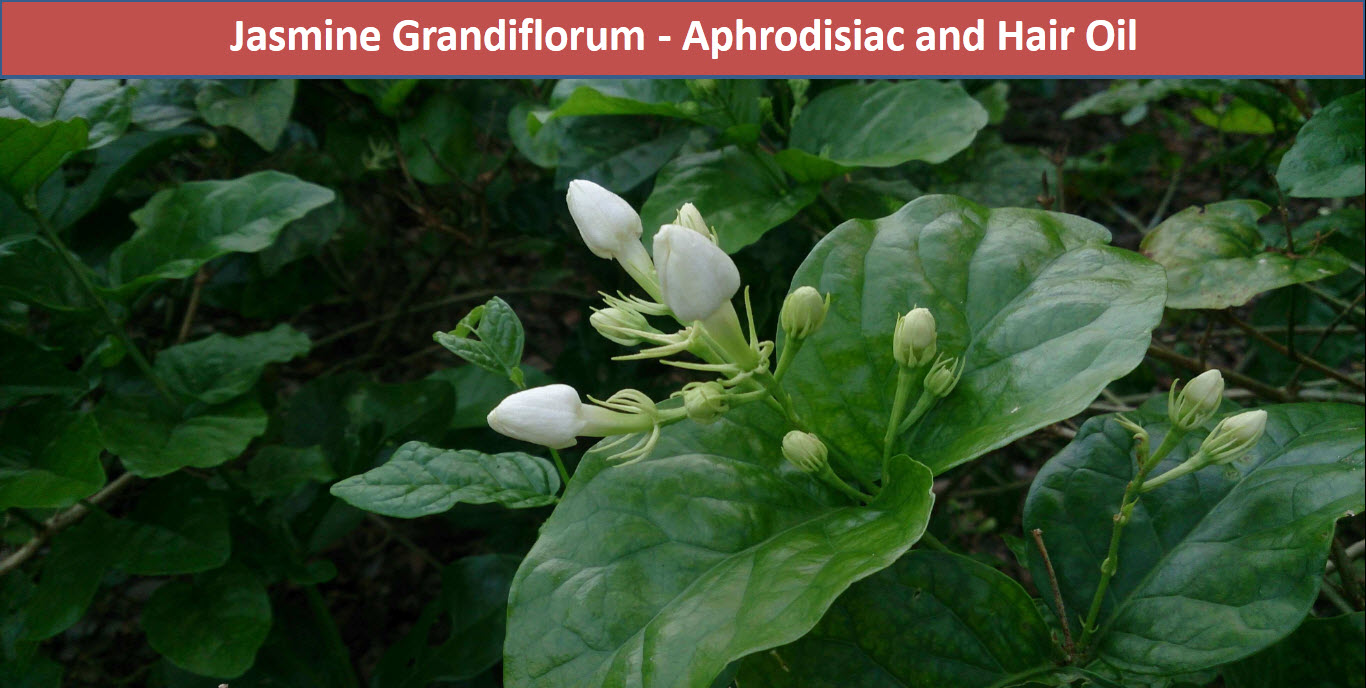 Jasmine Grandiflorum - Aphrodisiac and Hair Oil
If you are searching for an absolute beauty ingredient, Jasmine Grandiflorum is your best bet. Not only is it a powerful aphrodisiac, but it is also used as an ingredient in hair oil to treat alopecia and baldness. Plus, it's completely safe and is not harmful to your health. If you're curious about Jasmine, read on to learn more about this powerful plant.
Jasmine Grandiflorum as an Absolute
A light reddish-brown liquid, Jasmine Grandiflorum absolute is an essential oil extracted from the flower of this plant. It contains several active ingredients such as Jasmone, Geranyl linalool, and Methyl Anthranilate. This oil is also useful for treating insomnia and temporary sexual problems. It is an excellent choice for massage oils and bath salts and is often used for aphrodisiac properties.
Why Jasmine Grandiflorum is a Powerful Aphrodisiac?
The Jasmine grandiflorum has been used for centuries as an aphrodisiac and perfume. It is used in both aromatherapy and wedding decor in India, where it is considered to have aphrodisiac properties. Jasmine aroma also improves mood and energy levels. Some research suggests it may even be effective in improving sleep.
Why Jasmine Grandiflorum is Used in Hair Oil to Treat Baldness and Alopecia?
A plant that has been in use for centuries, Jasmine Grandiflorum is a natural ingredient that is used in many hair products. It has soothing and moisturizing properties, and its roots have long been used by Aboriginal people. The oil contains high levels of antioxidants and vitamins A and E. It is also a good source of amino acids and has been used for centuries for a variety of applications.
How to Grow Jasmine Grandiflorum?
Although some jasmine varieties produce seeds, these are unreliable and do not germinate. To increase your chances of success, grow cuttings of jasmine. The cuttings should be about four to six inches long. The roots of jasmine plants need to be treated with root hormones to promote growth. Plants should be grown in fertile soil. Grafted plants are available from nurseries. The cuttings should be rooted in a pre-moistened soil mix. Treat them just like mature specimens.
Although it's relatively easy to care for jasmine, proper care is important for a healthy flowering plant. The best locations for jasmine are partial or full shade, with protection from the hot afternoon sun. Loose, moist soil with a pH of 6.0 to 8.0 is ideal. Summer-flowering jasmine varieties require more sun than winter-flowering types, and the latter are more tolerant of shade and partial shade. Jasmine is best planted in spring or fall when the weather is still warm and the soil has some moisture.
Is Jasmine Grandiflorum a Deciduous Shrub?
The species Jasmine Grandiflorum is native to the Arabian Peninsula, South Asia, and eastern and northeast Africa. It is also widely cultivated in Guinea and Yunnan provinces of China. Its fragrant flowers are about one inch in diameter. The shrub is also a good choice for ground cover or for planting over retaining walls. Depending on where it is grown, it can reach up to fifteen feet tall and wide.
Jasmine Grandiflorum is Grown in India
The jasmine plant is grown in India. It is harvested by farmers in the south Indian state of Tamil Nadu. Flower buds are transported to a factory between markets. Once harvested, they are spread on the floor for a few hours to blossom. Then, they are extracted in a pilot plant. One litre of the absolute L contains 8000 blossoms. This amount of Jasmine is enough to make one kilogram of jasmine perfume.
How Jasmine Grandiflorum Essential Oil is Distilled from its Petals?
The essential oil of Jasmine Grandiflorum is extracted from the flower's petals by extracting the volatile oils from the blossoms. This process involves destroying the flower at the same time as the scent is formed, but the yield is only about one-fifth that of enfleurage. When extracted using volatile solvents, the resulting oil is a pale brown liquid that has a pleasant odour. The constituents of jasmine oil are methyl anthranilate, indol, benzyl alcohol, linalol, and linalyl acetate.
Jasmine Grandiflorum is Free of Melamine
Unlike some other fragrance oils, Jasmine Grandiflorum does not contain any trace amounts of melamine, a carcinogenic substance. The plant is grown for its perfume, which is widely popular around the world. Jasmine flowers have a sweet, fruity aroma. They look especially attractive in arrangements with lower-growing plants. Generally, jasmine requires full to partial sun. However, it can also be grown indoors in an area of light, such as a south-facing window.
The Bottom Line
Jasmine Grandiflorum flower extracts are noted for their sweet, fragrant, rich aroma, which is considered to signify grandeur, serenity, and suppleness. A vast number of blooms are required to generate a few grammes of pure powerful Jasmine Grandiflorum Absolute. With its numerous advantages and uses, this oil is a must-have.