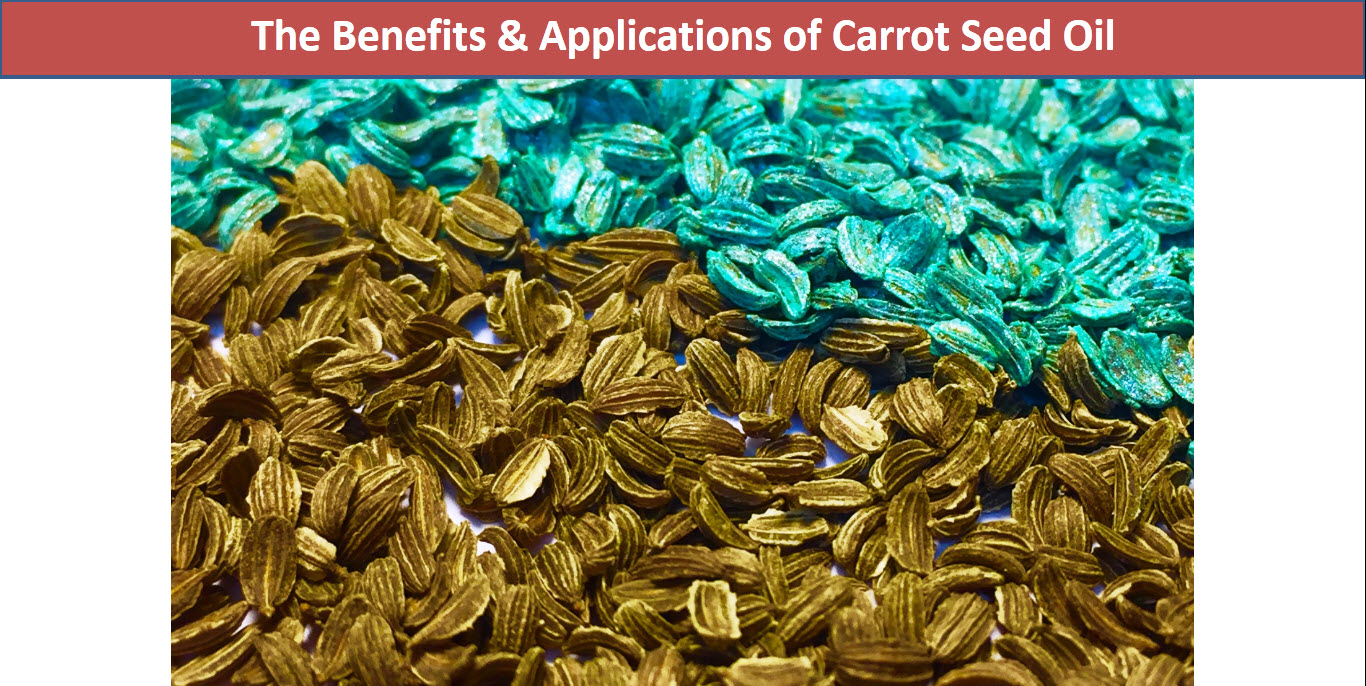 The Benefits & Applications of Carrot Seed Oil
The benefits of Carrot Seed Oil are numerous. Besides being an anti-inflammatory, it is also an excellent moisturizer and repairs skin damage. Its benefits are most noticeable when used as a facial or body moisturizer. Carrot Seed Oil is beneficial for the skin because of its invigorating properties. However, it must be diluted with carrier oil before application. Safflower and Coconut oils are suggested.
Benefits & Applications of Carrot Seed Oil
The carrot seed oil has been used for thousands of years for its many health benefits. Ancient Greeks, France, Egyptians, Indians, and Romans all appreciated its antioxidant properties and touted its benefits as a remedy for ageing skin and inflammation. Today, this vegetable oil is gaining popularity for its plethora of health benefits. Listed below are some of its most beneficial properties. Read on to discover more. Antioxidants - the body's most powerful natural anti-inflammatory agents.

Aromatherapy - The scent of the carrot seed oil is soothing and comforting, and many people have reported a calming effect after smelling it. It relieves stress and anxiety, and also reduces muscle and joint inflammation. Carrot seed oil is a popular choice for aromatherapy, as it can help fight anxiety, reduce fatigue, and improve eyesight. Carrot seed oil can be added to an aromatherapy diffuser to improve mood, as well as relieve muscle aches and pains.
Detoxifying properties - Carrot seed oil also contains anti-bacterial and anti-fungal properties. This oil helps prevent skin allergies, reduce inflammation, and repair damaged skin. It also helps prevent acne breakouts and clogged pores. Detoxifying properties can also help prevent acne breakouts and reduce blackheads. Additionally, carrot seed oil helps promote better hair and skin health. Finally, it is an excellent anti-microbial agent that combats various bacteria and helps prevent skin infections caused by various kinds of fungi and viruses.

Besides its detoxifying and rejuvenating properties, carrot seed oil also promotes skin health by repairing damage caused by pollution and environmental stress. It encourages skin cells to regenerate and promotes a clear, bright complexion. By enhancing the skin barrier, carrot seed oil can also reduce the appearance of age spots and wrinkles. Its earthy, soothing scent can soothe a sore throat and promote a healthy metabolism.
Aside from being rich in essential fatty acids, carrot oil contains beta carotene, a powerful antioxidant necessary for healthy skin. Beta carotene is responsible for the orange colour of carrots. Antioxidants are necessary for the body's cells to regenerate and maintain a youthful appearance. When applied topically, carrot oil also soothes sensitive skin. Its anti-inflammatory properties mean it is an excellent choice for skincare and cosmetics.
For some studies essential oils from wild carrots were tested for antibacterial activity, using both agar dilution and a macro dilution broth method. The oils from the wild carrot were not as effective against Gram-positive bacteria, which may be due to the chemical composition. A-pinene and geranyl acetate are known for their antibacterial properties, and carrot seed oil contains sabinene.
Carrot Seed Essential Oil is great for soothing sunburned skin. Simply mix it with some Aloe Vera gel in an amber glass jar. Gently massage into sunburned skin. Alternatively, you can apply a thin layer of carrot seed oil to your skin as a facial mask. Apply the mixture to your face and leave it on for a few minutes before rinsing it off.
In Conclusion
Although most people confuse carrot seed oil with carrot oil, the two are different. Carrot seed oil is an essential oil extracted from carrot seeds. Carrot seed oil is an oil extracted by steam distillation. Carrot seed essential oil is usually used in skincare products. Carrot seed oil is not a substitute for carrot oil, but it is very useful for treating skin inflammation and ageing. However, be careful when using carrot seed oil undiluted.